---
Smallest, lightest Silver Edition yet.
The HERO3+ Silver Edition is 20% smaller and 15% lighter than previous models and is compatible with all GoPro mounts and accessories—making it the most mountable, wearable and versatile Silver Edition GoPro yet.
---
2x more powerful.
Boasting 2x the performance of its predecessor, the HERO3+ Silver Edition captures high-quality 1080p60 and 720p120 video and offers dramatically improved low-light performance.
---
Professional video quality.
Stunning video quality has made GoPro the world's best-selling camera company, and the HERO3+ Silver Edition continues this tradition. High-resolution, high-frame rate 1080p60, 960p60 and 720p120 video modes result in professional quality footage and allow for liquid-smooth slow motion playback.
---
Powerful photo capture.
The HERO3+ Silver Edition captures gorgeous 10MP stills at up to 10 frames per second—perfect for fast-action sequences. Time Lapse mode lets you capture a series of photos at 0.5, 1, 2, 5, 10, 30 or 60 second intervals.
---
Enhanced low-light performance.
Thanks to a vastly upgraded sensor, the HERO3+ Silver Edition delivers remarkable low-light performance and overall enhanced image quality.
---
Sharper images, less distortion.
Enjoy crisper, clearer footage with reduced distortion. The HERO3+ Silver Edition boasts increased image sharpness and a 3x reduction in imaging artifacts.
---
Improved audio.
Sound quality is as important as image quality. The HERO3+ Silver Edition features upgraded audio performance, capturing even the most subtle of sounds—whether you're recording voices, music or the roar of your engine on a spirited drive. Advanced wind-noise reduction technology keeps the audio clearer during high-speed activities.
---
30% longer battery life.
Featuring a 30% increase in battery life, you can go longer and capture more with the HERO3+ Silver Edition.
---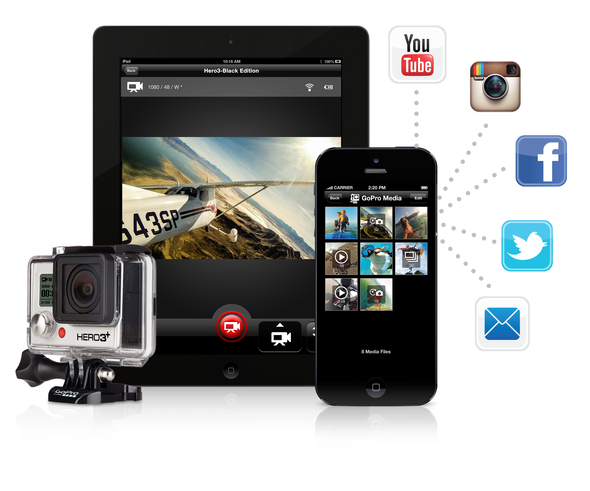 Control. View. Share.
The GoPro App makes it easy to control your camera, and lets you do more with your GoPro content than ever before. Get full remote control of all camera functions. See what your camera sees with live preview for easy shot-framing. View photos and play back videos, then share your favorites via email, text, Instagram™, Facebook® and more.
1
---
4x faster Wi-Fi.
Speedier Wi-Fi delivers 4x faster
2

 video preview and faster photo and video sharing with the GoPro App than ever before. Also enjoy enhanced connectivity to the Wi-Fi Remote (sold separately), which enables control of up to 50 cameras from distances of up to 600'/180m.